So we know that there is a lot of good that comes with wearing the Hijab; both spiritually and physically - in the avoiding attention sense (good deeds and preventing guys from doing bad ones hehe) BUT on the OTHER SIDE of the 'physical' sense, there are a lot of...i won't say bad per se, but annoying things that happen once you decide to don the Hijab (Wth am i talking about i hope you guys understand what i'm tryna say HAHA). Therefore, I would like to share with you guys the TOP TEN THINGS THAT ANNOY HIJABIS!
1. When you find the perfect skirt/top/blouse but when you look closer oh look, RANDOM SEE THROUGH PARTS THAT HAS NO MEANING. 
*SOBS* 
Yes, we have all been there, you walk in a store and you hear that perfect blouse/skirt/top just calling your name, ever so softly - only to find out that the clothing is actually SATAN IN DISGUISE COSE YOU CAN'T BUY IT. 
2. PINS. ENOUGH SAID. 
Basically, Hijab prepares you for motherhood cose pins are basically the kids of hijabis. Having to find them, knowing where to store them so they won't hide and disappear forever, getting hurt by them (talk about getting betrayed by the one closest to you) and making them behave in general (why do you open for no reason...JUST WHY). 
3. WHEN YOUR EYES DECEIVE YOU.
Thinking you look all classy and perfect before you leave the house but once you do, you hear someone go, "eh can see your..." and you have to find a toilet to quickly change it, ANNOYING. 
 Something like this, pics on the internet are just..no.
4. Having no time to dry your hair before donning the hijab (Idk why we still wash our hair nobody will see it but for those who do, you know that feel)
 
They prolly have a damp spot on their hijab 
When you're in a rush and you just washed your hair and you've only just barely dried it and your friends/parents are rushing you and your hair isn't even straight and so you have to place the hijab over the damp seaweed infested noodle you call hair..ya. Slightly uncomfortable. 
5. When you hear people complain about it being too hot and you're basically wearing an oven-themed outfit 24/7.
You know how hot Singapore can be (all the more reason to leave Singapore i say) and when you're wearing basically an oven and you hear these comments it's just like..ARGH
 We may be burning but we're still gorgeous  :P
6. THOUSANDS OF SCARVES.
"WHERE DO YOU COME FROM I DON'T EVEN REMEMBER BUYING YOU!?"
For the majority of the hijabis reading this (or the shopaholic ones like me) but i'm sure MAJORITY of you, open your closet. You know it's not a closet anymore it's just a huge scarf compartment. Some of it you've never even seen or worn before.

Hijabis' be like 'none of em match!'
7. AND YET HAVING NOTHING TO PAIR IT WITH. 
Even with all those scarves you just can't seem to find the perfect clothes that match well with it, WHY. 
 
This is why we need to pair it properly 
8. BABY HAIRS
When you looking fine but see one hair at the top, Just why. I'm not even ready to have a baby so WHY ARE YOU HERE? WHAT IS YOUR PURPOSE OTHER THAN GIVING ME SIN? It made me consider getting a bowl-haircut once or twice (okay no i'm joking BUT I MIGHT.) 
 
How i feel when all my baby hairs are showing 
9. When someone unexpected visits/comes to the door and you have to do an on-the- spot quick change to improvise a hijab.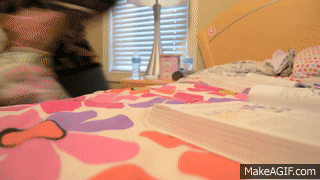 We all turn into superwoman at some point of this weird meeting cose of how fast we improvise. Well, not super woman but holy woman. Get it get it? No? okay. 
 AHAHAHAAA..HAH..HA..ha. Idc i find this hilarious
10. BAD HIJAB DAYS!!
I don't even need to explain this. But for those who don't know, it's the equivalent of having a bad hair day but all the more annoying due to it's logic of making no sense like, how can a cloth not behave?!
That's basically the top ten things that annoy us hijabis! These is one more thing which is getting asked annoying questions but that's for another post!
**BEAR IN MIND THIS IS ALL FOR FUN. (Altho its true). We know it is our choice to don the hijab and trust me, we want to do it but hey, we're all human and like we mentioned in the previous posts - 'thoughts on wearing the hijab', sometimes we get affected by some things but that doesn't stop us from fulfilling our duty as Muslims. God bless and see you guys in the next post :) 
State in the comments your thoughts and any other things that might annoy you!! We'd love to read about it :D